December 2019, America heard news from two overseas continents, Europe and Asia, who were alerting the world about the SARS-CoV-2 virus that could not be controlled. When this pandemic labeled as Covid-19 started in the United States and shook society in March 2020, Americans were mandated to stay home except under essential circumstances which included going to the grocery or pharmacy. In addition, essential workers were able to go back to work. 
Essential workers were defined by their work method being unable to be done remotely. A list of essential workers were provided for each state. Governor Newsom created this list as an Executive Order N-33-20 on March 19, 2020 for the state of California. This list became a guideline to organize specific fields of operation. Within the food and agriculture sector, cannabis growers are listed as an essential workforce. To ensure economic and national security, these workers were classified as one of the many building blocks to keep society running with safety protocols in check. 
With the decision to keep people safe by slowing down the spread, delivery was the most prevailing option for business to continue. As orders were made for delivery and more people were at home, sales in substances like cannabis rose tremendously. From Bart Schaneman's edited article "How US cannabis industry weathered two years of pandemic upheaval", a rough sketch of the 2020 annual marijuana sale is presented. Before summarizing the data collected from the first year of the pandemic, one has to consider the background regarding the data's representation of a circumstance. 
From the different set of regulations for cannabis being dependent on the state legislature, one must recognize that the effects from the pandemic are different due to this inconsistency regarding authorization of cannabis being legal. For instance, 32 states and Washington DC's legal cannabis markets were allowed "to stay open during state-mandated stay-at-home orders, according to the Marijuana Policy Project" (Mjbizdaily). For the remaining 18 states, they were not given approval to operate in the same ways. Instead, they were advised to close or change their hours (Mjbizdaily). These businesses in states that did not accept weeb as a legal substance were faced with other challenges which reflected accessibility to technology for American citizens when businesses tried to compensate sales to go online. Instead, these businesses acted in their best interest to operate through telephone due to the lack of internet resource available (Tortolani, NY Times).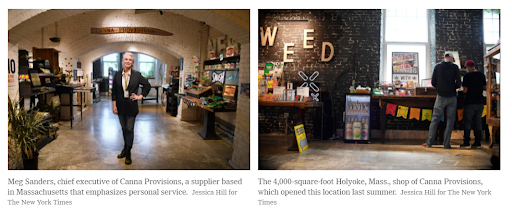 Again, these challenges were based on different circumstances specific to the business and as a reminder is a reflection of the disparities within different communities. 
All in all, business has been returning to normal based on pre-pandemic standards and in early March, BDSA reported their predicted global cannabis sales. Despite the fact that sales were unstable due to the atypical excess to support led by Families First Coronavirus Response Act (FFCRA) and Coronavirus Aid, Relief, and Economic Security (CARES) Act along with the drawbacks of those programs encouraging many to go back to work, sales are surprisingly expected to rise higher than before. Recovering from these inconsistencies, BDSA expects for a greater "growth in 2022  [of about 22% due to] strong [international] sales in new and emerging markets in" countries such as Canada, Mexico, and Germany (BDSA). All these countries have legalized the substance for medical uses and/or recreational use. This justification of a greater sale percentage relies on international export as this action is being justified through scientific interests advancing. 



With efforts of expanding legalization and Cannabis business rising, you may be wondering the reasons for this expansion. Despite the fact that we are currently in a hopefully ending pandemic, there have been discoveries within early March that confirm cannabis to potentially help covid patients. However, due to the research being new, it can be a double edged sword that can help one situation but hurt a patient in another. 
Labeled as a stimulant and depressant, out of the many chemicals within cannabis, there is a chemical known as cannabidiol (CBD) along with CBD's metabolite 7-OH-CBD, a product of CBD after its metabolization for energy. These chemical substances were announced to be able to block the SARS-CoV-2 virus from infecting lungs once the virus was inside one's body (Science). Another study from Nature claimed that the CBD substances including its extracts were shown to decrease the overall process of producing signals for vulnerable cells from ACE3 and TMPRSS2 seen as motivator mechanisms. CBD is able to suppress these motivators and keep infection rates low and at bay. For more background on CBD, this substance is known as "an approved prescription drug" for many conditions including "anxiety, pain, muscle disorder called dystonia, seizure disorders called epilepsy, Parkinson disease, Crohn disease and many other conditions" (WebMD). On the contrary, if CBD is a depressant called sedatives, only located to react in the central nervous system which consists of the brain and spinal cord, Tetrahydrocannabinol (THC) like components are stimulants. Different from depressants, these substances affect the speed of messages reaching the body from the brain (ADF). 
Diverging from the biological processes and looking at the effects of marijuana use on respiratory illnesses, SARS-CoV-2 virus is a serious virus due to the possibility of being able to affect the heart, urinary tract, and central nervous system. Published from the Brazilian journal, Scielo, and written by affiliates from the University of Sao Paulo, they report that using cannabis for CBD will increase the virus for infection due to the respiratory harms which relates to the overall decrease in one's health. Other chemicals that cannabis includes like (THC) do not protect against SARS-CoV-2, instead these chemicals will/ may cause harm to patients as it will reduce their immune system which will increase the possibility for the spread of the virus. Nonetheless, even with limited research this team is hopeful for cannabinoids to be a resource we can use to work in our favor to block interaction before it is too late. 
Although science aims to progress accessibility and safety to us, there have been misfortunate incidents to those who have overdosed as a method of coping. Due to the stressful times during the pandemic, many "communities faced mental health challenges" and resorted to using substances like alcohol and drugs (CDC). During April to June, panel surveys were "conducted among adults aged 18" and above (CDC). Research justifies that damage was done to our social and mental wellbeing from results where racial/ethnic minorities of participants ranging from the ages of 18 to 21 had a higher percentage within those that have seriously considered suicide (Hispanic respondents [18.6%], non-Hispani balck respondents [15.1%]) (CDC).