DNA CANNABIS FINGERPRINTING

Certificate of Cultivar Identity
Use the Certificate of Cultivar Identity (CCI) as the reference to identify your cultivars and proof of their uniqueness. The CCI includes a unique serial number and a QR code, and use it to identify and map your cultivars, creating the phylogenetic tree of your genetics. You can also compare your CCIs with future samples you send for testing.
*PROMOTION IS VALID FROM 11/24/23 UNTIL 12/01/23 AND ONLY FOR ONE PROMOTION PER ORDER.
Details
Our "patent pending" technology enables us to create a Certificate of Cultivar Identity including a visual pattern representing the unique molecular fingerprint of a sample genetics, develop phylogenetic trees and compare cultivars' genetics to obtain grades of similarities among them.
MFValidate™ combines Illumina™ technology and proprietary SNP markers for generating unique Molecular IDs for genetics.  We fuse DNA fingerprinting with the most advanced IT technologies and robust data processing solutions to deliver the most powerful and useful tool to our clients.
With MFValidate™, we are able to extract, process, and develop the Certificate of Cultivar Identity (CCI) for our clients' cultivars, using a small amount of plant tissue. Our clients can also keep them online, shareable, and accessible to their partners, depending on the purposes they pursue.
Resources
Results at Your Fingertips
With MyFloraCLOUD, you can easily access and review cultivar-specific data and test analysis insights.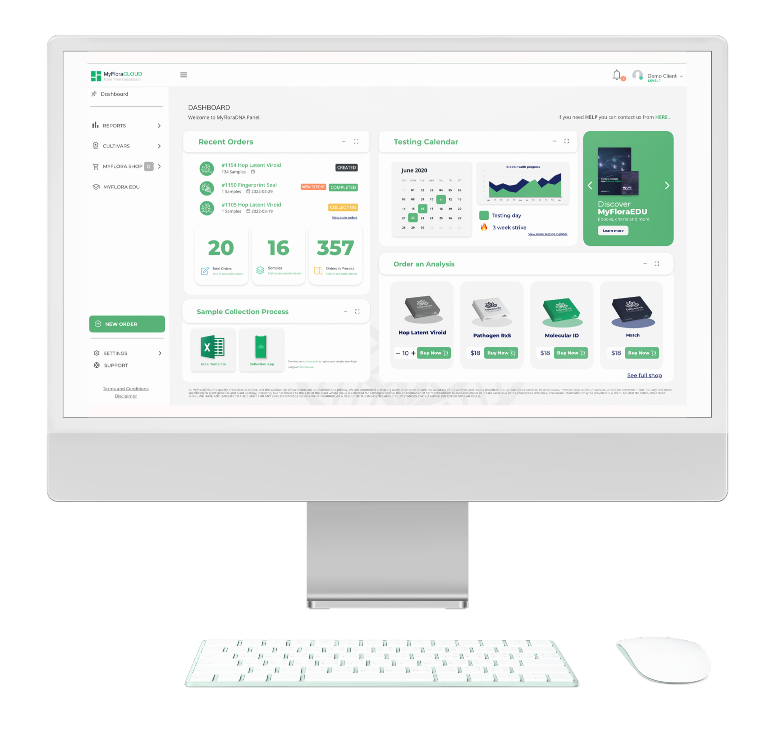 Track your data and visualize how it changes over time.
Login from any device – whether it's your phone, home computer, or workstation – to see and download your results.
Rest easy knowing that your precious data is safely stored in our database.
Obtain educational materials and get in touch with our specialists.
Everything you need to know to test your plants with us.