Detect Botrytis cinerea using our industry-leading assays. Our MFDetect™ technology, a high-throughput, low-cost solution for Cannabis and Hemp, combines two established technologies to accurately identify fungi like Botrytis Cinerea in Cannabis samples, with rapid turnarounds and cost-efficient prices.
Details
Botrytis cinerea is a necrotrophic fungal pathogen that can infect cannabis plants and cause the development of gray mold. These fungi thrive in cool and humid conditions and can cause significant damage to cannabis crops, resulting in diminished yields and lower flower quality. Botrytis spores can be dispersed by the wind, transferred by insects and other organisms, and can also be transmitted through contaminated soil or plant material.
Our proprietary plant pathogen detection assay provides a high-throughput, low-cost solution for cannabis cultivators. MFDetect™ combines two established technologies to accurately and rapidly identify pathogenic fungi, like Botrytis cinerea.
With decades of expertise in genomics, plant biology, and breeding, we offer customized solutions to meet each client's unique needs. We understand that no two operations are the same, which is why we provide industry-leading solutions tailored to optimize your crop production and cultivation management practices.
Documents
Results at Your Fingertips
With MyFloraCLOUD, you can easily access and review cultivar-specific data and test analysis insights.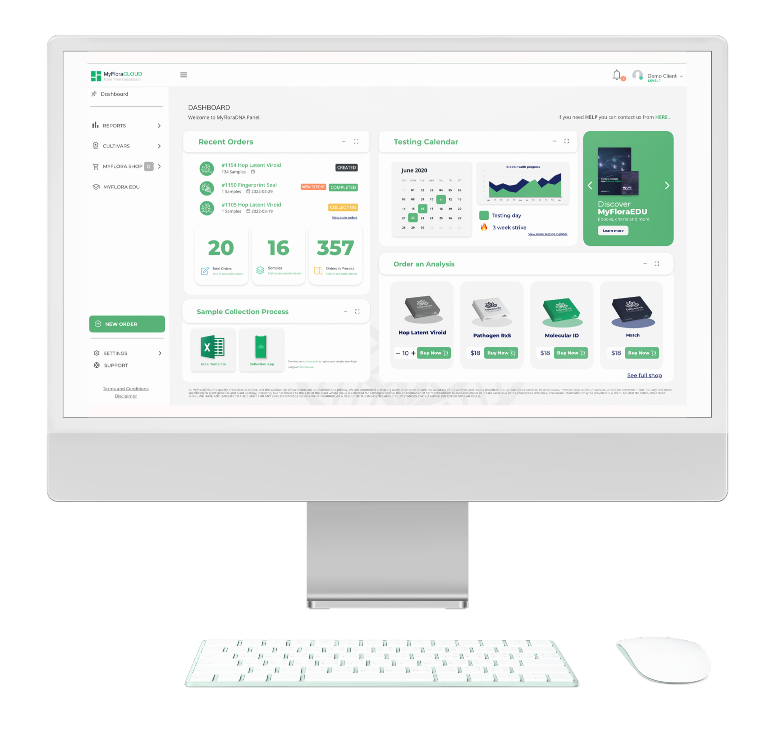 Track your data and visualize how it changes over time.
Login from any device – whether it's your phone, home computer, or workstation – to see and download your results.
Rest easy knowing that your precious data is safely stored in our database.
Obtain educational materials and get in touch with our specialists.
Everything you need to know to test your plants with us.